Victron Multi / 12V / Output 500VA / charger 20A / transfer switch 16A / Parallel and 3-Phase connection possible
The new Victron inverter charger.
---
Weight ,shipped as package ,shipped as bulky goods ,shipped by forwarding company, free curbside
Legal information on the delivery date: 1 to 2 business days**
Legal information on the delivery date: 2 to 3 business days**
Legal information on the delivery date: 2 to 3 business days**
---
Inverter / Charger Multi, pure sine, 500VA / 12V
with internal 20A IUoU Battery Charger and AC Transfer Switch
for Motor home, RC, Camper car, Boat and industrial use
The new style Multi is set to replace the earlier MultiPlus Compact range. It is a powerful true sine wave inverter, a sophisticated battery charger that features adaptive charge technology and a high-speed AC transfer switch in a single compact enclosure.
Proven reliability
The full bridge plus toroidal transformer topology has proven its reliability over many years. The inverter is short circuit proof and protected against overheating, whether due to overload or high ambient temperature.
High start-up power
Needed to start high inrush loads such as power converters for LED lamps, halogen lamps or electric tools.
Uninterrupted AC power
In the event of a grid failure, or shore or generator power being disconnected, the inverter within the Multi is automatically activated and takes over supply to the connected loads. This happens so fast (less than 20 milliseconds) that computers and other electronic equipment will continue to operate without disruption.

PowerControl – Dealing with limited generator or shore side power
With a Multi Control Panel a maximum generator or shore current can be set. The Multi will then take account of other AC loads and use whatever is extra for charging, thus preventing the generator or shore supply from being overloaded.
Digital Multi Control (optional)
The Digital Multi Control panel (DMC) is a remote panel designed to work with all Multis.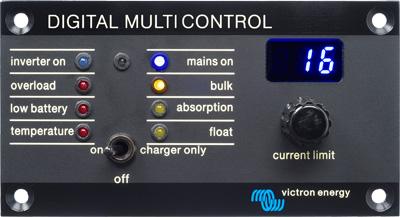 The remote control in two different styles you can find here: Digital MultiControl or Digital Multicontrol GX
Programmable relay
The Multi is equipped with a programmable relay that by default is set as an alarm relay. The relay can be programmed for all kinds of other applications however, for example as a starter relay for a generator.
Virtually unlimited power thanks to parallel operation
Up to 6 Multis can operate in parallel to achieve higher power output. (RJ45-spliter ASS030065510 needed for 500/800/1200VA models)
Threephase capability
In addition to parallel connection, three units of the same model can be configured for three phase output. But that's not all: up to 6 sets of three units can be parallel connected. (RJ45-spliter ASS030065510 needed for 500/800/1200VA models)
Adaptive 4-stage charging characteristics: bulk – absorption – float – storage
The microprocessor-driven adaptive battery management system can be adjusted for various types of batteries. The adaptive function automatically adapts the charging process to battery use.

The right amount of charge: variable absorption time
In the event of slight battery discharge, absorption is kept short to prevent overcharging and excessive gas formation. After deep discharging, the absorption time is automatically extended in order to fully charge the battery.

Preventing damage due to excessive gassing: the BatterySafe mode
If, in order to quickly charge a battery, a high charge current in combination with a high absorption voltage has been chosen, damage due to excessive gassing will be prevented by automatically limiting the rate of voltage increase once the gassing voltage has been reached.

Less maintenance and aging when the battery is not in use: the Storage mode
The Storage mode kicks in whenever the battery has not been subjected to discharge during 24 hours. In the Storage mode float voltage is reduced to 2,2V/cell (13,2V for 12V battery) to minimise gassing and corrosion of the positive plates. Once a week the voltage is raised back
to the absorption level to 'equalize' the battery. This feature prevents stratification of the electrolyte and sulphation, a major cause of early battery failure.
Two DC outputs for charging two batteries
The main DC terminal can supply the full output current. The second output, intended for charging a starter battery, is limited to 1A and has a slightly lower output voltage.

Increasing service life of the battery: temperature compensation
The temperature sensor (supplied with the product) serves to reduce charging voltage when battery temperature rises. This is particularly important for maintenance-free batteries, which could otherwise dry out by overcharging.
Configuration by computer or DIP switches
All settings can be changed by means of a computer. Some settings can be changed with DIP switches. For changing settings with the computer, the following is required:
- VEConfigureII software: can be downloaded free of charge at www.victronenergy.com.
- a RJ45 UTP cable and the MK3-USB interface cable is needed.
Remote Monitoring and Control
Monitor and control your MultiPlus and system or systems' locally (LAN) or remotely via the internet from anywhere in the world, using the free VRM app and free VRM portal website. Access can be from a phone, tablet, laptop or PC for multiple operating systems. There is no end to the level of control, via the required Color Control GX or Venus GX, from adjusting your MultiPlus to setting a Geofence for hire vehicles and more...
The Color Control GX you can find here: Color Control GX
The new Venus GX you can find here: Venus GX
To view the technical data, click on the tab 'Technical data' above.
Delivery contains:
Victron Multi / 12V / output power 500VA / 20A battery charger / 16A AC transfer switch


Battery connection cable with fuse holder / fuse must be ordered separately!

G-ST18i connectors for AC input ond output
Battery temperature sensor
Of course, you will also receive from us an instruction manual in German and English
Further help you can find here: FAQ
FUNCTIONS:
Power Control function: yes
Power Assist function: no
AC transfer switch (A): 16
INVERTER:
Input voltage range (V DC): 9,5 - 17,0
Output voltage: 230 VAC ± 2%
Frequency: 50Hz ± 0,1% (1)
Cont. output power at 25°C (VA): 500

(3)

Cont. output power at 25°C (W): 430
Cont. output power at 40°C (W): 400
Cont. output power at 65°C (W): 300
Peak power (W): 900
Maximum efficiency (%): 90
Zero-load power (W): 6
Zero load power in search mode (W): 2
CHARGER:
Input voltage: 187-265 VA, 45-65Hz, Power Factor: 1
Charge voltage 'absorption' (V DC): 14,4 (free adjustable)
Charge voltage 'float' (V DC): 13,8 (free adjustable)
Storage mode (V DC): 13,2 (free adjustable)
Charge current house battery (A): 20

(4)

Charge current starter battery (A): 1
Battery temperature sensor: yes
GENERAL:
VE.Bus communication port: yes, for parallel and three phase operation, remote monitoring and system integration(RJ45-spliter ASS030065510 needed for 500/800/1200VA models)
Remote on-off: On/off/charger only
DIP switches: yes

(6)

Internal DC fuse: 125A
Programmable relay: yes

(5)

Protection: a-g

(2)

Operating temp. range: -40 bis +65°C
Cooling: fan assisted cooling
Humidity (non-condensing): max 95%
ENCLOSURE
Material & Colour: Steel/ABS (blue RAL 5012)
Protection category: IP21
Battery-connection: 16mm²
230 V AC-connection: G-ST18i connector
Weight (kg): 4,4
Dimensions (h x w x d): 311 x 182 x 100mm
STANDARDS:
Safety: EN 60335-1, EN 60335-2-29, EN 62109-1
Emission / Immunity: EN 55014-1, EN 55014-2, EN 61000-3-2, EN 61000-3-3
Road vehicles: ECE R10-58
NOTES:
(1) can be adjusted to 60Hz and to 240V
(2) Protection:
a. Output short circuit
b. Overload
c. Battery voltage too high
d. Battery voltage too low
e. Temperature too high
f. 230VAC on inverter output
g. Input voltage ripple too high
(3) Non-linear load, crest factor 3:1
(4) at 25°C ambient
(5) Programmable relay which can be set for: General alarm DC under voltage or generator start/stop signal function, AC rating: 230V/4A, DC rating: 4A up to 35VDC, 1A up to 60VDC
(6) Remote / Battery charge voltage / Inverter frequency / search mode
Do you still have questions about the order process or the article?

Simply contact a member of our customer service team.

You can reach us by telephone from Monday to Friday between 8:00 am and 6:00 pm.
Tel.: 06024 6341 560 or by fax under 06024 6341 569
Of course you can also contact us by e-mail: kontakt@fraron.de

Would you like to have a look at the goods beforehand or would you like a personal consultation on site?

No problem, you are welcome to view all products in our exhibition area.
Of course we are at your disposal for a personal consultation.
Monday to Friday between 8:00 am and 6:00 pm


What payment methods are available to you?

Cash payment / EC card payment when picking up at the store in Schöllkrippen
bank transfer / prepayment
Cash on delivery (you pay directly to the parcel deliverer upon receipt)
PayPal including buyer protection (for EU countries as well as Liechtenstein, Norway, Iceland)
Credit card (Visa / Master)

How long does it take to ship the goods?

The stock status is indicated online on the respective product page. Products in stock will be shipped immediately or after receipt of payment, depending on the payment method. The shipment of goods that can be shipped by parcel is carried out to all countries of delivery by DHL. The parcel delivery times in Germany are 1-2 working days. DHL also delivers on Saturdays in Germany. We ship shipping goods via the shipping company Emons, the transit times are 2-3 working days within Germany, abroad this can not be specified flat rate, please contact us.
high quality goods
huge warehouse
best service