Roof grommet / cable grommet waterproof Kathrein HDZ 100
für Satelittenanlagen, Solaranlagen oder als Kabelweiterleitungsdose
---
Weight ,shipped as package ,shipped as bulky goods ,shipped by forwarding company, free curbside
Legal information on the delivery date: 1 to 2 business days**
Legal information on the delivery date: 2 to 3 business days**
Legal information on the delivery date: 2 to 3 business days**
---
Dachdurchführung Kathrein HDZ - 100
wasserdicht für Satanlagen oder Solarkabel
zur sicheren Montage auf dem Dach, Boot, Yacht, Caravan, Wohnwagen
Die Dachdurchführung HDZ 100 dient zum Schutz der Kabelverbindungsstelle und der Dachdurchführungsstelle bei Kabelverlegung von CAP-Satanlagen oder als Kabeldurchführung von Solaranlagen auf dem Caravan- bzw. Wohnmobildach. Insgesamt verfügt die Dachdurchführung über 6 seitliche Kabelein- bzw. ausgänge (an beiden Seiten jeweils 3). Die Dichtsitze sind jeweils für zwei Kabel (Ø 5 mm) und jeweils ein Kabel (Ø 6,5-7 mm) ausgelegt. Die nicht benötigten Ein- und Ausgänge können durch die mitgelieferten Blindstopfen verschlossen werden. Die Bohrung durch das Fahrzeugdach ist in 38mm auszuführen.
Alternativ kann die Dachdurchführung auch als einfache Kabelweiterführung auf dem Dach verwendet werden, dazu wird einfach der Dachdurchführungsstutzen von der Dose abgetrennt.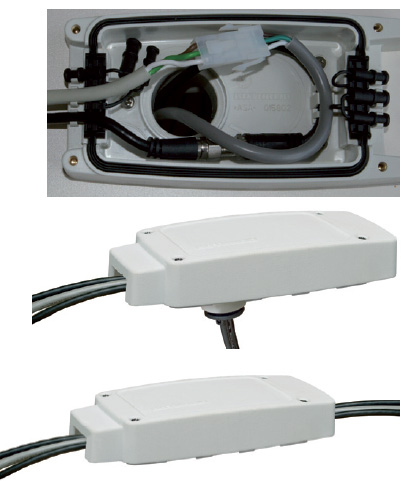 Achtung: Zur Klebemontage benötigen Sie zusätzlich das Klebeset HSKS-ABS.
Lieferumfang:
Dachdurchführung HDZ 100 (ohne Klebeset)
Weitere hilfreiche Tipps finden Sie in unserer FAQ Fragen/Antworten Seite unter nachfolgendem Link: FAQ
6 seitliche Kabelein- bzw. ausgänge (an beiden Seiten jeweils 3)
Durchführung durchs Dach: 38mm
Schutzgehäuse für Kabelschnittstellen
Geeignet als Dachdurchführung und für Kabelweiterführung auf dem Dach
Optimiert für Kathrein CAP-Satelittensysteme
Einfache Montage
Nicht benutzte Kabeleinführungen können durch integrierte Blindstopfen verschlossen werden
Mit Kabelkanalanschlussstelle von bis zu 29 x 17 mm Größe
Farbe: RAL 9002 (Grauweiß)
Abmessungen: 211 x 90 x 37mm
Gewicht: 250g
Do you still have questions about the order process or the article?

Simply contact a member of our customer service team.

You can reach us by telephone from Monday to Friday between 8:00 am and 6:00 pm.
Tel.: 06024 6341 560 or by fax under 06024 6341 569
Of course you can also contact us by e-mail: kontakt@fraron.de

Would you like to have a look at the goods beforehand or would you like a personal consultation on site?

No problem, you are welcome to view all products in our exhibition area.
Of course we are at your disposal for a personal consultation.
Monday to Friday between 8:00 am and 6:00 pm


What payment methods are available to you?

Cash payment / EC card payment when picking up at the store in Schöllkrippen
bank transfer / prepayment
Cash on delivery (you pay directly to the parcel deliverer upon receipt)
PayPal including buyer protection (for EU countries as well as Liechtenstein, Norway, Iceland)
Credit card (Visa / Master)

How long does it take to ship the goods?

The stock status is indicated online on the respective product page. Products in stock will be shipped immediately or after receipt of payment, depending on the payment method. The shipment of goods that can be shipped by parcel is carried out to all countries of delivery by DHL. The parcel delivery times in Germany are 1-2 working days. DHL also delivers on Saturdays in Germany. We ship shipping goods via the shipping company Emons, the transit times are 2-3 working days within Germany, abroad this can not be specified flat rate, please contact us.
high quality goods
huge warehouse
best service
var itemsSimilar = [];
Similar
itemsSimilar.push({ 'id': '12357597', 'google_business_vertical': 'retail' });
itemsSimilar.push({ 'id': '85858742', 'google_business_vertical': 'retail' });
gtag('event', 'page_view', { 'send_to': 'AW-1071351273', 'value': '144.1', 'items': itemsSimilar });