MPPT Solar charge controller 15A for 12V / 24V Battery Systems, max. PV voltage 75V, with internal Bluetooth
mit integriertem Bluetooth, alle Solarwerte live auf Smartphone oder Tablet anzeigen
---
Item number
SLR15V1224V75_Smart-0
Weight , shipped as package
* Incl. ${ $store.getters.currentItemVariation.prices.default.vat.value }% VAT excl. Shipping
Please note that balcony power plants or PV systems without VAT may only be sold to private customers or commercial customers if the system operator and buyer of the balcony power plant or photovoltaic system is the same person.
Furthermore, the VAT-exempt calculation may only be applied to solar systems that are used on residential buildings, public buildings, and those used for activities serving the public good. The use in mobile homes or boats does not fall under the VAT-exempt scheme!
If you select the wrong use, we reserve the right to charge VAT after.
More information
Please confirm below or select another usage above.
Legal information on the delivery date: 1 to 2 business days**
---
MPPT Solar Charge Controller BluePower 15A / 75V, Smart
for 12V and 24V battery systems
KFZ, PKW, Boot, Camping, Outdoor, Caravan, Reisemobil, Solar
Bluetooth Smart built-in: dongle not needed
The wireless solution to set-up, monitor and update the controller using Apple and Android smartphones, tablets or other devices.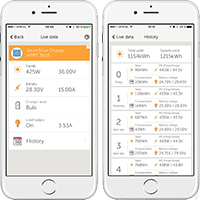 VE.Direct
For a wired data connection to a Color Control panel, PC or other devices
Ultra-fast Maximum Power Point Tracking (MPPT)
Especially in case of a clouded sky, when light intensity is changing continuously, an ultra-fast MPPT controller will improve energy harvest by up to 30% compared to PWM charge controllers and by up to 10% compared to slower MPPT controllers.

Load output
Over-discharge of the battery can be prevented by connecting all loads to the load output. The load output will disconnect the load when the battery has been discharged to a pre-set voltage.
Alternatively, an intelligent battery management algorithm can be chosen: see Battery Life. The load output is short circuit proof.

Battery Life: intelligent battery management
When a solar charge controller is not able to recharge the battery to its full capacity within one day, the result is often that the battery will continually be cycled between a 'partially charged' state and the 'end of discharge' state. This mode of operation (no regular full recharge) will destroy a lead-acid battery within weeks or months.
The Battery Life algorithm will monitor the state of charge of the battery and, if needed, day by day slightly increase the load disconnect level (i.e. disconnect the load earlier) until the harvested solar energy is sufficient to recharge the battery to nearly the full 100%. From that point onwards the load disconnect level will be modulated so that a nearly 100% recharge is achieved about once every week.

Programmable battery charge algorithm
See the software section on our website for details

Day/night timing and light dimming option
See the software section on www.victronenergy.de for details

Programming, real-time data and history display options
- Modern Apple and Android smartphones, tablets, macbooks and other devices: see the VE.Direct Bluetooth Smart dongle and the MPPT app discovery sheet for screenshots.
- ColorControl panel
Achtung NEU, optionale Produkte:
MPPT700: Solaranzeigedisplay, zur Anzeige der aktuellen Solarwerte, historische Werte und zur vollständigen Konfiguration des Ladereglers

VE.direkt zu USB: Schnittstellenkabel zur Konfiguration des Solarladereglers über einen PC
Lieferumfang:
Solarladeregler Bluesolar MPPT 15A/75V Smart
Selbstverständlich erhalten Sie auch bei uns eine Bedienungsanleitung in Deutsch.
Weitere hilfreiche Tipps finden Sie in unserer FAQ Fragen/Antworten Seite unter nachfolgendem Link: FAQ
Ultra Fast MPPT Regelung: ja
Batteriespannung: 12 oder 24V, automatische Auswahl
Maximaler PV-Leistung, 12V (1a,b): 220W (MPPT-Bereich 15V bis 100V)
Maximaler PV-Leistung, 24V (1a,b): 440W (MPPT-Bereich 30V bis 100V)
Maximale PV-Leerlaufspannung:75V
Max. Kurzschlussstrom der Solaranlage (2): 15A
DC-Lastausgang: 15A
Spitzenlwirkungsgrad: 98%
Eigenverbrauch: 10mA
'Konstant'-Ladespannung: 14,4V / 28,8V
'Erhaltungs'-Ladespannung: 13,8V /27,6V
Lastalgorithmus: mehrstufig, anpassungsfähig
Unterspannungsabschaltung DC-Lastausgang: 11,1V / 22,2V oder 11,8V /23,6 V oder Algorithmus BatteryLife
Wiederzuschaltung DC-Lastausgang: 13,1V / 26,2V oder 14V / 28V oder Algorithmus BatteryLife
Temperaturkompensation: -16mV / °C bzw. -32mV / °C
Schutzfunktionen: Batterieverpolung (Sicherung), Ausgangskurzschluss, Überhitzung
Betriebstemperatur: -30 bis +60°C (voller Nennausgang bis zu 40°C)
Luftfeuchtigkeit: 100 %, nicht kondensierend

Gehäuse:

Farbe: Blau (RAL 5012)
Anschlußklemmen: 6mm² / AWG10
Schutzklasse: IP 65 (elektronische Komponenten)
Gewicht ohne Verpackung: 0,60kg
Maße (HxBxT): 100 x 113 x 50mm

1a) Bei Anschluss eines höheren PV-Leistung schränkt der Regler die Eingabeleistung auf 200W bzw. 400W ein.
1b) PV-Spannung muss Vbat +5V überschreiten, damit der Regler hochfährt. Danach beträgt die Mindestspannung
der PV bei Vbat +1V.
2) Ein höherer Kurzschlussstrom kann den Regler im Falle eines verpolten Anschlusses der PV- Anlage beschädigen.
Do you still have questions about the order process or the article?

Simply contact a member of our customer service team.

You can reach us by telephone from Monday to Friday between 8:00 am and 6:00 pm.
Tel.: 06024 6341 560 or by fax under 06024 6341 569
Of course you can also contact us by e-mail: kontakt@fraron.de

Would you like to have a look at the goods beforehand or would you like a personal consultation on site?

No problem, you are welcome to view all products in our exhibition area.
Of course we are at your disposal for a personal consultation.
Monday to Friday between 8:00 am and 6:00 pm


What payment methods are available to you?

Cash payment / EC card payment when picking up at the store in Schöllkrippen
bank transfer / prepayment
Cash on delivery (you pay directly to the parcel deliverer upon receipt)
PayPal including buyer protection (for EU countries as well as Liechtenstein, Norway, Iceland)
Credit card (Visa / Master)

How long does it take to ship the goods?

The stock status is indicated online on the respective product page. Products in stock will be shipped immediately or after receipt of payment, depending on the payment method. The shipment of goods that can be shipped by parcel is carried out to all countries of delivery by DHL. The parcel delivery times in Germany are 1-2 working days. DHL also delivers on Saturdays in Germany. We ship shipping goods via the shipping company Emons, the transit times are 2-3 working days within Germany, abroad this can not be specified flat rate, please contact us.
<div class="pdf"> <a href="https://www.dropbox.com/s/hhp7b201x3smnmi/Manual-BlueSolar-charge-controller-MPPT-75-10-75-15--100-15-EN-NL-FR-DE-ES-SE-ul.pdf?dl=0">Manual</a> </div>
high quality goods
huge warehouse
best service