Color Control GX zur Anzeige und Konfiguation von Victron Geräten (MultiPlus, Quattro, Batteriecomputer VBC, Tankanzeige VTM)
VE.NET, VE.direct, VE.Bus, VE-Can, Ethernet und USB fähig
---
Weight , shipped as package
* excl. ${ $store.getters.currentItemVariation.prices.default.vat.value }% VAT excl. Shipping
Legal information on the delivery date: 1 to 2 business days**
---
Color Control GX
Das Color Control (CCGX) bietet eine intuitive Bedienung und Überwachung aller daran angeschlossenen Geräte. Die Liste der Victron-Produkte, die sich daran anschließen lassen ist schier endlos: Wechselrichter, MultiPlus, Quattros, unsere neusten MPPT Solar-Laderegler, Batteriemonitore BMV-700, BMV-600, Lynx Ion + Shunt und noch weitere Geräte.
VRM Online-Portal
Abgesehen von der Überwachung und Bedienung von Geräten am CCGX werden die Informationen auch an unsere kostenlosen Website zur Fernüberwachung weitergeleitet: Um einen Eindruck vom VRM Online-Portal zu bekommen, besuchen Sie bitte folgende Adresse: https://vrm.victronenergy.com und probieren Sie die Vorführfunktion aus. Siehe außerdem die Screenshots weiter unten in diesem Datenblatt.
Zukünftige Funktionen
Das CCGX bietet unendlich viele Möglichkeiten. Es wird Jahre dauern, um all unsere Ideen und Wünsche umzusetzen. Aus diesem Grund stehen zahlreiche Funktionen noch nicht zur Verfügung. Funktionen, die mit 'Zukünftige Funktion' gekennzeichnet sind, werden im Nachhinein als Firmware-Aktualisierung zur Verfügung gestellt werden. Firmware-Aktualisierungen sind für alle Victron-Produkte unentgeltlich. Die Aktualisierung des Produktes ist einfach: Das CCGX aktualisiert sich selbst automatisch, solange es mit dem Internet verbunden ist. Manuelle Aktualisierungen lassen sich über einen USB-Stick oder eine microSD-Karte vornehmen.
Unterstützte Produkte
MultisPlus und Quattros, einschließlich der Spalt-Phasen- und Drei-Phasen-Systeme, Überwachung und Steuerung (ein/aus und Strombegrenzer). Das Verändern der Einstellungen steht bislang noch nicht zur Verfügung.
BlueSolar MPPT 150/70 und der MPPT 150/85. Der aktuelle Solarausgang wird auf dem Übersichtsbildschirm angezeigt und sämtliche Parameter werden auf dem VRM-Online-Portal protokolliert. Bitte beachten Sie, dass die VRM App über eine schöne Übersicht verfügt, in der die Daten des BlueSolar MPPT 150/70 ebenso angezeigt werden. Wenn mehrere BlueSolar MPPTs mit VE.Can in Parallelschaltung verwendet werden, zeigt das Color Control sämtliche Informationen in einem. Bitte beachten Sie auch unseren Blogpost: Synchronizing multiple MPPT 150/70 solar chargers (Synchronisierung mehrerer MPPT 150/70 Laderegler - auf Englisch).
BlueSolar MPPT Solarladegeräte mit einem VE.Direct Port (70/15, 75/15, 100/15, 100/30, 75/50, 100/50, 150/35) lassen sich an die VE.Direct Ports am CCGX anschließen. Es lassen sich auch mehrere gleichzeitig anschließen. Sie erscheinen dann als ein separates Solar-Ladegerät in der Geräteliste.
Geräte der BMV-700 Familie können direkt an die VE.Direct Ports am CCGX angeschlossen werden.
Verwenden Sie hierfür das VE.Direct-Kabel.
Geräte der BMV-600 Familie können an die VE.Direct Ports am CCGX angeschlossen werden.
Verwenden Sie hierfür das VE.Direct zu BMV60xS-Kabel.
Lynx Ion + Shunt
Lynx Shunt VE.Can
Skylla-i
NMEA2000 Tanksensoren
Ein USB GPS lässt sich an den USB-Port anschließen. Auf dem Display werden dann Standort und Geschwindigkeit angezeigt. Die Daten werden dann zu Tracking-Zwecken an das VRM-Portal gesendet. Auf der Karte auf dem VRM wird dann die aktuellste Position angezeigt.
WiFi USB
Bitte beachten Sie, dass es noch weitere Optionen für Produkte gibt, die die VE.Direct-Ports verwenden. Hierzu gehören zum Beispiel BMVs und kleine MPPTs. Sie lassen sich ebenfalls über den USB-Anschluss verbinden. Das ist nützlich, wenn man mehr als zwei Produkte anschließen möchte. Verwenden Sie einen handelsüblichen USB-Hub und das VE.Direct zu USB-Interface, ASS030530000.
Weitere Highlights
Wenn das CCGX mit dem Internet verbunden ist, aktualisiert es sich selbst automatisch, sobald eine neue Software-Version zur Verfügung steht.
Verschiedene Sprachen: Englisch, Chinesisch, Deutsch, Italienisch, Spanisch, Französisch, Schwedisch und Niederländisch.
Verwenden Sie das CCGX als ein Modbus-TCP Gateway zu allen angeschlossenen Victron-Produkten.
Bitte beachten Sie unsere Modbus-TCP FAQ für zusätzlich Informationen.
Hinweise für Nutzer von bereits vorhandenen VGR2 und VER
- Anders als beim Victron Global Remote 2 (VGR2) und dem Victron Ethernet Remote (VER) speichert das CCGX bei Netzwerkunterbrechungen alle Daten lokal. Sobald die Verbindung zum VRM Online-Portal wieder hergestellt ist, werden automatisch alle zurückgestellten Daten an das Portal gesendet. Die Daten lassen sich dann unter folgender Adresse analysieren https://vrm.victronenergy.com.
- Remote VEConfigure wird derzeit vom CCGX noch nicht unterstützt. Man rechnet mit dieser Funktion im ersten Quartal 2015. Sie wird dann sogar noch besser sein, als das VGR2 und VER: Sie enthält nämlich dann die Unterstützung zur Änderung von Assistenten und deren Einstellungen.
- Die lokale Website, wie sie am VER vorhanden ist, wird derzeit noch nicht unterstützt.
- Das CCGX verfügt über kein internes GPRS Modem: Man kann in das CCGX keine Sim-Karte einsetzen. Verwenden Sie stattdessen einen handelsüblichen GPRS oder 3 G Router. Bitte beachten Sie den Blogpost über 3G Router (auf Englisch).
Weitere Informationen
Hilfe bei der Installation finden Sie im Color Control GX Handbuch
Übersicht - Multi mit PV-Wechslrichter an Ausgang (Hub-2)
Hauptmenü
Übersicht - Multi
Alarmbenachrichtigungen
Übersicht - MultiPlus mit MPPT 150/70
Übersicht über die Kacheln - Hub-2-System
VRM Portal – Live feed
VRM Portal – Verbrauch
Schematisches Diagramm Color Control GX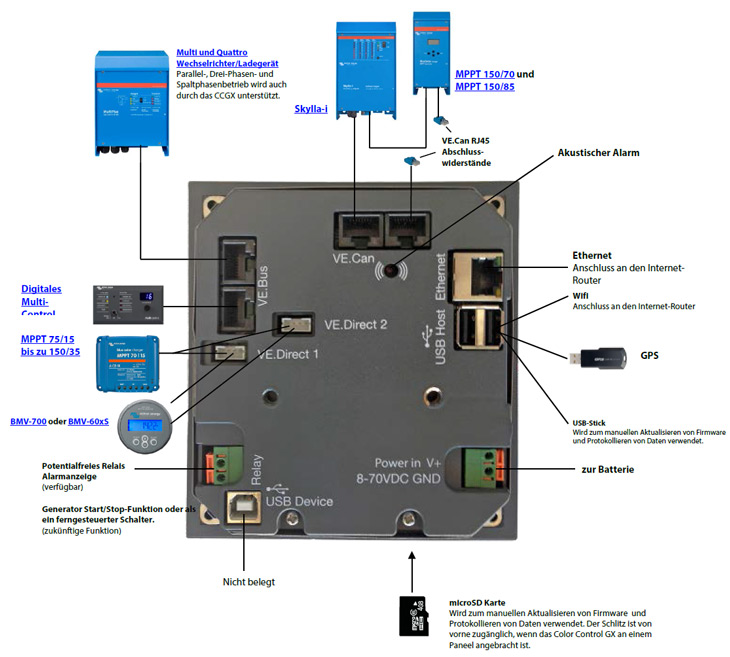 Lieferumfang:
Color Control GX zur Anzeige und Konfiguation von Victron Geräten
Weitere hilfreiche Tipps finden Sie in unserer FAQ Fragen/Antworten Seite unter nachfolgendem Link: FAQ
Spannungsbereich Stromversorgung
9 – 70 V Gleichstrom
Stromentnahme
12V DC
24V DC
48V DC
Ausgeschaltet
0mA
0mA
0mA
Bildschirm ausgeschaltet
140mA
80mA
40mA
Display auf minimaler Intensität
160mA
90mA
45mA
Display auf maximaler Intensität
245mA
125mA
65mA
Potentialfreier Anschluss
3 A / 30 V DC / 250 V AC (Normal Offen)
Schnittstellen
VE.Direct
2 separate VE.Direct Ports – isoliert
VE.Can
2 parallel geschaltete RJ45 Buchsen – isoliert
VE.Bus
2 parallel geschaltete RJ45 Buchsen – isoliert
USB
2 USB Host Ports – nicht isoliert
Ethernet
10/100/1000MB RJ45 Buchsen – isoliert außer Kabelschirm
Verbindung mit Drittgeräten
Modbus-TCP
Verwenden Sie das Modbus-TCP zur Überwachung und
Steuerung aller Produkte, die mit dem Color Control GX
verbunden sind.
JSON
Verwenden Sie das VRM JSON API, um Daten vom VRM Portal abzurufen.
Sonstiges
Äußere Maße (HxBxT)
130 x 120 x 28 mm
Betriebstemperaturbereich
-20 bis +50 °C
Do you still have questions about the order process or the article?

Simply contact a member of our customer service team.

You can reach us by telephone from Monday to Friday between 8:00 am and 6:00 pm.
Tel.: 06024 6341 560 or by fax under 06024 6341 569
Of course you can also contact us by e-mail: kontakt@fraron.de

Would you like to have a look at the goods beforehand or would you like a personal consultation on site?

No problem, you are welcome to view all products in our exhibition area.
Of course we are at your disposal for a personal consultation.
Monday to Friday between 8:00 am and 6:00 pm


What payment methods are available to you?

Cash payment / EC card payment when picking up at the store in Schöllkrippen
bank transfer / prepayment
Cash on delivery (you pay directly to the parcel deliverer upon receipt)
PayPal including buyer protection (for EU countries as well as Liechtenstein, Norway, Iceland)
Credit card (Visa / Master)

How long does it take to ship the goods?

The stock status is indicated online on the respective product page. Products in stock will be shipped immediately or after receipt of payment, depending on the payment method. The shipment of goods that can be shipped by parcel is carried out to all countries of delivery by DHL. The parcel delivery times in Germany are 1-2 working days. DHL also delivers on Saturdays in Germany. We ship shipping goods via the shipping company Emons, the transit times are 2-3 working days within Germany, abroad this can not be specified flat rate, please contact us.
<div class="pdf"> <a href="https://www.dropbox.com/s/n3sz9foydke2ha9/Datasheet-Color-Control-GX-EN.pdf?dl=0"target="_blank">PDF Datasheet</a> </div>
high quality goods
huge warehouse
best service