IUoU Automatic Battery Charger 12 Volt 50 Ampere, 2 outputs
dreistufige Ladekennlinie, für WET / GEL / AGM / LiFePO4, 2 Ladeausgänge für zwei Batteriebänke
---
Weight , shipped as package
* Incl. ${ $store.getters.currentItemVariation.prices.default.vat.value }% VAT excl. Shipping
Legal information on the delivery date: 1 to 2 business days**
---
Automatikladegerät 50 Ampere mit IUoU Ladekennlinie

3-stufen Lader mit zwei Ladeausgängen zum Laden von einer Batterie oder zwei unabhängigen Batterien

konstruiert für Yachten, Boote, KFZ, Camping, Caravan
Dieses Ladegerät wurde gezielt für die heutigen Anforderungen im KFZ-, Camping,- und Bootsbereich konstruiert. Zwei Ladeausgänge ermöglichen die gleichzeitige Ladung zwei getrennter Batteriebänke, die beispielsweise aus Starter- und Versorgungsbatterien bestehen können. Es kann auch nur ein Ausgang benutzt werden, der auch dann die volle Leistung zur Verfügung stellt.
Die dreistufige IUoU-Ladekennlinie kann zum Laden von offenen und geschlossenen Blei-Säure Batterien, GEL Batterien, AGM Batterien sowie Lithium Batterien LiFePO4 per Umschalter angepasst werden. Die IUoU Ladung ermöglicht eine schnelle, vollständige und dabei schonende Ladung der Batterien. Diese Ladekennlinie erzielt ein optimales Ladeergebnis was die Lebensdauer der Batterien deutlich verlängern kann. Beachten Sie dazu den nachfolgenden Absatz "Einstellung der Schiebeschalter".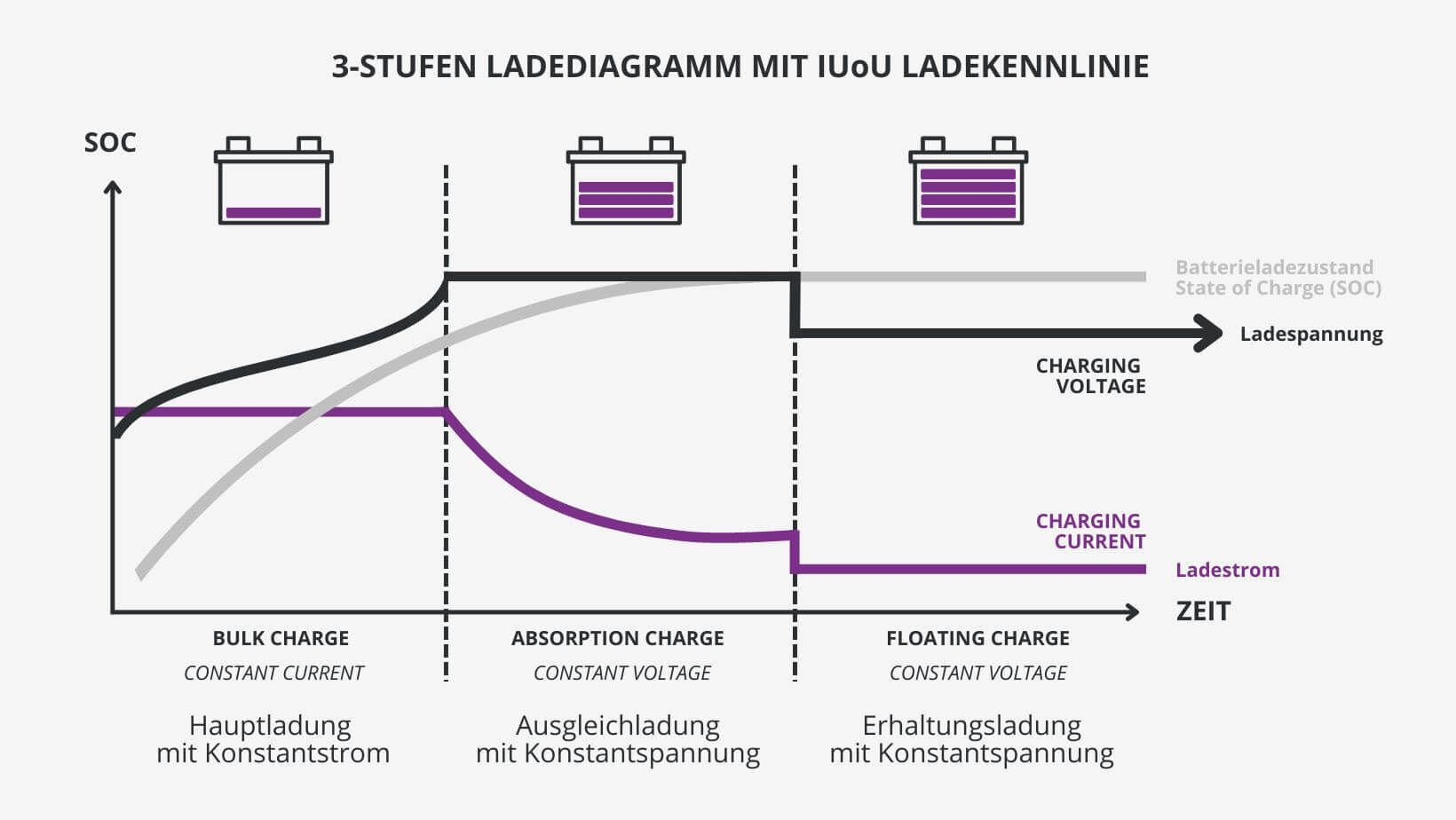 Das Ladegerät kann permanent mit den Batterien verbunden bleiben. Bei angeschlossenem und eingeschalteten Ladegerät stell die Erhaltungsladung sicher, dass die Batterien voll geladen bleiben, auch wenn diese einige Zeit nicht benutzt werden.
Einstellung der Schiebeschalter
Hierzu ist das Datenblatt ihrer Batterie erforderlich, daraus gehen die Ladeparameter (Ladeschlussspannung und Erhaltungsladespannung) für ihre Batterie hervor. Sollte Ihnen das Datenblatt nicht vorliegen, sprechen Sie ihren Batterielieferanten oder den Batteriehersteller an. In den technischen Daten des Batterieladegeräts sind die hinterlegten Spannungswerte für die einzelnen Schiebeschaltereinstellungen notiert, vergleichen Sie diese Werte mit den Vorgaben im Batteriedatenblatt und bringen die Schiebeschalter in die entsprechende Position. Weichen die Vorgaben im Batteriedatenblatt von den Einstellmöglichkeiten am Ladegerät ab, ist dieses Ladegerät nicht für ihre Batterie einsetzbar.

Laden von einer oder mehreren Batterien / Bänken:
Das Ladegerät verfügt über zwar über zwei Ladeausgänge, es ist aber nicht erforderlich beide Ausgänge zu verwenden. Wenn nur ein Ausgang verwendet wird, steht auch dort der volle Ladestrom uneingeschränkt zur Verfügung.
Wenn beide Ausgänge verwendet werden, ist folgendes zu beachten: Die Batteriebänke können aus der Starterbatterie und einer Versorgungsbatterie bestehen oder aus z.B. zwei voneinander unabhängigen Versorgungsbatterien. Der zur Verfügung stehende Ladestrom wird auf die angeschlossenen Batterien nach deren Bedürfnissen verteilt. Es gilt für beide Ausgänge die gleiche Ladekennlinie.

Gleichzeitiges Laden der Batterien und Versorgen der angeschlossenen Verbraucher
Bei Netzanschluss werden alle an den Batterien angeschlossenen Verbraucher vom Ladegerät versorgt, gleichzeitig werden die Batterien mit dem noch zur Verfügung stehenden Ladestrom geladen.
Netzteilbetrieb / Konstantspannungsquelle:
Das Batterieladegerät kann nicht nur als Ladegerät für ihre Batterien verwendet werden, sondern auch als DC-Konstantspannungsquelle. Über einen Schiebeschalter kann auf Netzteilbetrieb umgeschaltet werden. Die Ausgangsspannung entspricht der eingestellten Erhaltungsladespannung mit konstant 50A Strom.

Großer Eingangsspannungsbereich und Betrieb an Wechselspannungsgeneratoren
Die moderne Schaltnetzteiltechnik ermöglicht den Betrieb des Gerätes mit voller Nennleistung auch bei reduzierten Netzspannungen. Das Ladegerät hat einen Weitbereichsspannungseingang von 100-240V AC. Damit ist der uneingeschränkte Betrieb an Stegen mit langen Zuleitungen oder mit Bordgeneratoren möglich.

Außenliegende Anschlüsse und einfache Montage
Die außenliegenden Anschlüsse erleichtern den sicheren Anschluss aller Leitungen auch bei ungünstigen oder beengten Platzverhältnissen. Zur Montage gehörendes Zubehör - wie Befestigungsschrauben, Netzanschlusskabel und 2 Satz Ladekabel für die beiden Ladeausgänge - wird selbstverständlich mitgeliefert. Seitlich integrierte Befestigungswinkel ermöglichen die schnelle Wand- oder Bodenmontage in allen Lagen.

Temperaturkompensierte Ladekennlinie
Beim Einsatz des optional erhältliche Batterietemperatursensors, wird mit steigender Batterietemperatur die maximale Ladespannung des Ladegerätes reduziert, um die schädliche Gasung der Batterie zu verhindern. Der Sensor wird am Batteriepol der Batterie angeschlossen und der am Sensor befindliche Stecker an der Frontseite des Ladegerätes eingesteckt. Die Verwendung des Temperatursensorkabels ist bei der hohen zur Verfügung stehenden Ladeleistung generell zu empfehlen besonders bei kleinen Batteriekapazitäten bzw. bei hohen Umgebungstemperaturen.

Doppelte Betriebszustandsanzeige
Fünf LED-Anzeigen an der Frontseite sowie nochmals an der Oberseite des Gerätes zeigen die verschiedenen Betriebs- oder Fehlerzustände an. Es ist zu jeder Zeit erkennbar in welchem Modus sich das Ladegerät befindet.

Bedieneinheit / Fernbedienung (optional erhältlich)
Das Ladegerät verfügt über eine Anschlussbuchse für die optional erhältliche Fernbedieneinheit BLG-2550. Die Bedieneinheit stellt über LED Anzeigen und über ein LCD Display alle wichtigen Informationen zur Verfügung. Die Bedieneinheit können Sie an einem beliebigen Ort einbauen und haben dadurch den Ladezustand ihrer Batterien jederzeit im Blick.

Temperaturgeregelter Lüfter
Eine eingebaute Temperaturüberwachung schützt das Gerät vor Übertemperatur. Der geregelte Lüfter schaltet sich nur bei Bedarf ein und ist zudem noch Geschwindigkeitsgeregelt. Im Erhaltungslademodus ist der Lüfter deaktiviert. Eine optimale Laufruhe und Temperaturüberwachung ist somit sichergestellt.

Lieferumfang:
IUoU Ladegerät BLG50M12V
2 Satz Ladekabel (je 1 Meter)
Selbstverständlich erhalten Sie auch bei uns eine Bedienungsanleitung in Deutsch
Weitere hilfreiche Tipps finden Sie in unserer FAQ Fragen/Antworten Seite unter nachfolgendem Link: FAQ Seite
Ladestrom: max. 50A
Batteriesystemspannung: 12V DC
Ladekennlinie: IUoU
Ladeausgänge: 2
empf. Batteriekapazität: 150-500Ah
Eingangsspannungsbereich: 100-240V AC
Frequenz: 50-400Hz
Stromaufnahme bei 230V: max. 4A (Einschaltstrom max. 8A)
Toleranz des Ladestromes in Abhängigkeit zur Eingangsspannung(100-240V): ca. 0,3%
Restwelligkeit: max. 150mV
Kühlung: Temperatur- und Geschwindigkeitsgesteuerter Lüfter
Temperaturbereich: -10°C bis +40°C
Ladeschlussspannung ±0,1V in Stellung:

GEL: 14,2V (GEL-Batterien)
Low: 14,4V (Blei-Säure (WET) / AGM)
LiFePO4: 14,3V (Lithium)
High: 14,6V (AGM1)

Erhaltungsladespannung: einstellbar, 13,2V, 13,5V, 13,8V
Kurzschlussschutz am Ausgang (3 x 25A Sicherung)
Gehäusematerial aus Aluminium
Gewicht: 3,2kg (ohne Verpackung)
Abmessungen (L x B x H): 260 x 220 x 80mm
Do you still have questions about the order process or the article?

Simply contact a member of our customer service team.

You can reach us by telephone from Monday to Friday between 8:00 am and 6:00 pm.
Tel.: 06024 6341 560 or by fax under 06024 6341 569
Of course you can also contact us by e-mail: kontakt@fraron.de

Would you like to have a look at the goods beforehand or would you like a personal consultation on site?

No problem, you are welcome to view all products in our exhibition area.
Of course we are at your disposal for a personal consultation.
Monday to Friday between 8:00 am and 6:00 pm


What payment methods are available to you?

Cash payment / EC card payment when picking up at the store in Schöllkrippen
bank transfer / prepayment
Cash on delivery (you pay directly to the parcel deliverer upon receipt)
PayPal including buyer protection (for EU countries as well as Liechtenstein, Norway, Iceland)
Credit card (Visa / Master)

How long does it take to ship the goods?

The stock status is indicated online on the respective product page. Products in stock will be shipped immediately or after receipt of payment, depending on the payment method. The shipment of goods that can be shipped by parcel is carried out to all countries of delivery by DHL. The parcel delivery times in Germany are 1-2 working days. DHL also delivers on Saturdays in Germany. We ship shipping goods via the shipping company Emons, the transit times are 2-3 working days within Germany, abroad this can not be specified flat rate, please contact us.
<div class="pdf"> <a href="https://www.dropbox.com/s/j1l7wp8vbc951yn/BLG50M12V_BDA_102022.pdf?dl=0"target="_blank">Bedienungsanleitung</a> </div>
high quality goods
huge warehouse
best service