Victron Quattro / 24V / Output 5000VA / charger 120A / 2 x transfer switch 100A / Parallel and 3-Phase connection possible
Two separate AC-Inputs, e.g. for shore power and generator
---
Item number
QUA245000120100100-0
Weight , shipped by forwarding company, free curbside
* excl. ${ $store.getters.currentItemVariation.prices.default.vat.value }% VAT excl. Shipping
Please note that balcony power plants or PV systems without VAT may only be sold to private customers or commercial customers if the system operator and buyer of the balcony power plant or photovoltaic system is the same person.
Furthermore, the VAT-exempt calculation may only be applied to solar systems that are used on residential buildings, public buildings, and those used for activities serving the public good. The use in mobile homes or boats does not fall under the VAT-exempt scheme!
If you select the wrong use, we reserve the right to charge VAT after.
More information
Please confirm below or select another usage above.
Legal information on the delivery date: 2 to 3 business days**
---
Quattro 24/5000/120-100/100 VE.Bus
5000VA pure sine inverter 24V + internal 120A IUoU battery charger + 2x AC transfer switch each 100A
designed for Caravan, Boat, Motor home and Offgrid systems
Similar to the MultiPlus, the Quattro is also a combined inverter and charger. Additionally it can accept two AC inputs and automatically connect to the active source. Its many features include a true sine wave inverter, adaptive charging, hybrid PowerAssist technology plus multiple system integration features such as three or split phase operation and parallel operation.
Features:
Two AC Inputs & two AC Outputs
The Quattro can be connected to two independent AC sources, for example shore-side power and a generator, or two generators. The Quattro will automatically connect to the active source. The main output has no-break functionality. In the event of a grid failure, or shore or generator power being disconnected, the Quattro takes over the supply to the connected loads. This happens so fast (less than 20 milliseconds) that computers and other electronic equipment will continue to operate without disruption. The second output is live only when AC is available on one of the inputs of the Quattro. Loads that should not discharge the battery, such as air-conditioning or a water heater can be connected to this output..
PowerControl
Dealing with limited generator, shore side or grid power. The Quattro is a very powerful battery charger. It will therefore draw a lot of current from the generator or shore side supply (nearly 10 A per 5 kVA Quattro at 230 VAC). With the Multi Control Panel a maximum generator or shore current can be set. The Quattro will then take account of other AC loads and use whatever is extra for charging, thus preventing the generator or shore supply from being overloaded.
PowerAssist
Boosting the capacity of shore or generator power. This feature takes the principle of PowerControl to a further dimension. It allows the Quattro to supplement the capacity of the alternative source. Where peak power is so often required only for a limited period, the Quattro will make sure that insufficient shore or generator power is immediately compensated for by power from the battery. When the load reduces, the spare power is used to recharge the battery.
Remote control: Digital Multi Controll (optionally available)
The Digital Multi Control is used to remotely view and adjust AC input currents, and turn on and off the Multi or Quattro. It is designed to integrate cleanly with your boat, vehicle or house system control panel.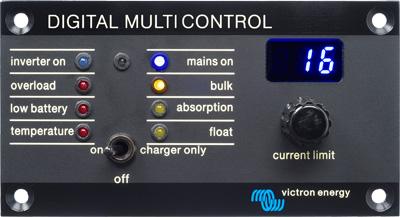 Adaptive 4-stage charging characteristics: bulk – absorption – float – storage
The microprocessor-driven adaptive battery management system can be adjusted for various types of batteries. The adaptive function automatically adapts the charging process to battery use.
Uninterrupted AC power
In the event of a grid failure, or shore or generator power being disconnected, the inverter within the Quattro is automatically activated and takes over supply to the connected loads. This happens so fast (less than 20 milliseconds) that computers and other electronic equipment will continue to operate without disruption.
Programmable relay
The Quattro is equipped with 3 programmable relays that by default is set as an alarm relay. The relays can be programmed for all kinds of other applications however, for example as a starter relay for a generator.
Virtually unlimited power thanks to parallel operation
Up to 6 Multis can operate in parallel to achieve higher power output. Six 12/5000/220 units, for example, will provide 25 kW / 30 kVA output power with 720 Amps charging capacity.
Threephase capability
In addition to parallel connection, three units of the same model can be configured for three phase output. But that's not all: up to 6 sets of three units can be parallel connected for a 75 kW / 90 kVA inverter and more than 2000 Amps charging capacity.
Solar energy:
AC power available even during a grid failure. The Quattro can be used in off grid as well as grid connected PV and other alternative energy systems. Loss of mains detection software is available.
System configuring
-In case of a stand-alone application, if settings have to be changed, this can be done in a matter of minutes with a DIP switch setting procedure.
-Parallel and three phase applications can be configured with VE.Bus Quick Configure and VE.Bus System Configurator software.
-Off grid, grid interactive and self-consumption applications, involving grid-tie inverters and/or MPPT Solar Chargers can be configured with Assistants (dedicated software for specific applications).
On-site Monitoring and control
Several options are available: Battery Monitor, Multi Control Panel, Color Control GX or other GX devices, smartphone or tablet (Bluetooth Smart), laptop or computer (USB or RS232).
Remote Monitoring and control
Color Control GX or other GX devices.Data can be stored and displayed on our VRM (Victron Remote Management) website, free of charge.
Remote configuring
When connected to the Ethernet, systems with a Color Control GX or other GX device can be accessed and settings can be changed remotely.
The interface cable for configuration via PC or laptop can be found here: MK3-USB
The remote controls, in two optically different versions, can be found here: Digital MultiControl oder Digital MultiControl GX
To view the technical data, click on the tab 'Technical data' above.
Delivery contains:
Victron Quattro / 24V / output power 5000VA / 120A battery charger / 2 x

100A AC transfer switch,

Victron QUA245021010
Battery cables must be ordered separately!
Battery temperature sensor
Of course, you will also receive from us an instruction manual in German and English
Further helpful tips can be found on our FAQ Questions / Answers page under the following link: FAQ
FUNCTIONS:
PowerControl: yes
PowerAssist: yes
Integrated Transfer switch: yes
AC Inputs: 2 x
Maximum feed through current (A): 2x 100
Parallel and 3phase connection possible: yes
INVERTER:
Input voltage range (V DC): 19-33
Output voltage (V AC): 230 ±2%
Output frequency: 50Hz ±0,1% (

1

)
continuous output power at 25°C (VA): 5000 (

3

)
continuous output power at 25°C (W): 4000
continuous output power at 40°C (W): 3700
continuous output power at 65°C (W): 3000
Peak power (W): 10000
Maximum efficiency (%): 94
Zero load power (W): 30
Zero load power in AES mode (W): 25
Zero load power in Search mode (W): 10
CHARGER:
Input voltage range (V AC): 187-265 / Input frequency: 45-65Hz / Power factor: 1
Charge voltage 'absorption' (V DC): 28,8 (adjustable)
Charge voltage 'float' (V DC): 27,6 (adjustable)
Storage mode (V DC): 26,4 (adjustable)
Charge current house battery (A): 120 (

4

)
Charge current starter battery (A): 4
Battery temperature sensor: yes
GENERAL:
Auxiliary 230V output: yes, 50A (

5

)
Programmable relay: 3x (

6

)
Protections: a-g (

2

)
VE.Bus communication port: yes, for parallel and three phase operation, remote monitoring and system integration
General purpose com. port: yes (

7

)
Remote on-off: yes
Operating temp. range: -40 to +65°C (fan assisted cooling)
Humidity (non-condensing): max 95%
ENCLOSURE:
Material & Colour: aluminium (blue RAL 5012)
Protection category: IP 21
Battery connection: M8 bolts, (2 x plus and 2 x minus)
230 V AC-connection: M6 bolts
Weight (kg): 30
Dimesions (HxWxD) in mm: 444x328x240
STANDARDS:
SAFETY: EN-IEC 60335-1, EN-IEC 60335-2-29, IEC 62109-1
Emissionen / Immunität: EN 55014-1, EN 55014-2, EN-IEC 61000-3-2, EN-IEC 61000-3-3, IEC 61000-6-1, IEC 61000-6-2, IEC 61000-6-3
Road vehicle: ECE R10-4
Anti-islanding: see Victron website
NOTES:
(

1

) can be adjusted to 60 HZ. 120 V models available on request
(

2

) Protection key:: a) output short circuit, b) overload, c) battery voltage too high, d) battery voltage too low, e) temperature too high, f) 230 VAC on inverter output, g) input voltage ripple too high
(

3

) Non-linear load, crest factor 3:1
(

4

) at 25˚C ambient
(

5

) switches off when no external AC source available
(

6

) Programmable relay that can a.o. be set for general alarm, DC under voltage or genset start/stop function

AC rating: 230 V/4A, DC rating: 4 A up to 35 VDC, 1 A up to 60 VDC
Do you still have questions about the order process or the article?

Simply contact a member of our customer service team.

You can reach us by telephone from Monday to Friday between 8:00 am and 6:00 pm.
Tel.: 06024 6341 560 or by fax under 06024 6341 569
Of course you can also contact us by e-mail: kontakt@fraron.de

Would you like to have a look at the goods beforehand or would you like a personal consultation on site?

No problem, you are welcome to view all products in our exhibition area.
Of course we are at your disposal for a personal consultation.
Monday to Friday between 8:00 am and 6:00 pm


What payment methods are available to you?

Cash payment / EC card payment when picking up at the store in Schöllkrippen
bank transfer / prepayment
Cash on delivery (you pay directly to the parcel deliverer upon receipt)
PayPal including buyer protection (for EU countries as well as Liechtenstein, Norway, Iceland)
Credit card (Visa / Master)

How long does it take to ship the goods?

The stock status is indicated online on the respective product page. Products in stock will be shipped immediately or after receipt of payment, depending on the payment method. The shipment of goods that can be shipped by parcel is carried out to all countries of delivery by DHL. The parcel delivery times in Germany are 1-2 working days. DHL also delivers on Saturdays in Germany. We ship shipping goods via the shipping company Emons, the transit times are 2-3 working days within Germany, abroad this can not be specified flat rate, please contact us.
<div class="pdf"> <a href="https://www.dropbox.com/s/b080fx2h8ul90pd/Datasheet-Quattro-3kVA-15kVA-EN.pdf?dl=0"target="_blank">Data sheet 3KVA-15KVA</a> </div> <div class="pdf"> <a href="https://www.dropbox.com/s/izd6dudtba8kqqj/Manual-Quattro-5k-8k-10k-15K-100-100A-230V-%28firmware-xxxx4xx%29-EN-NL-FR-DE-ES-SE-IT.pdf?dl=0"target="_blank">Manual 5000VA</a> </div>
high quality goods
huge warehouse
best service