IUoU Battery Charger 24 Volt 40 Ampere, three charge outputs, Series Centaur
dreistufige Ladekennlinie, für GEL, AGM und Blei-Säure, Weitbereichseingang 90-265VAC, 45-65Hz oder 90-400VDC
---
Weight , shipped as package
* excl. ${ $store.getters.currentItemVariation.prices.default.vat.value }% VAT excl. Shipping
Legal information on the delivery date: 1 to 2 business days**
---
Automatikladegerät 24V / 40 Ampere mit IUoU Ladekennlinie

3-stufen Lader mit drei Ladeausgängen zum Laden mehrerer Batteriebänke gleichzeitig,
es kann aber auch nur ein oder zwei Ausgänge genutzt werden

konstruiert für Yachten, Boote, KFZ, Camping, Caravan
Die neue Batterieladegerätreihe Centaur wurde für eine weltweite Verwendung entwickelt. Die Erfüllung allgemeiner Vorgaben und Eingangs-/Ausgangs-Spezifizierungen sind die Hauptmerkmale dieser neuen Produktreihe. Sie wurde entworfen, um sowohl die Anforderungen der CE-Kennzeichnung für Europa, als auch der UL-Kennzeichnung für die Vereinigten Staaten zu erfüllen.
Die Centaur-Reihe lässt automatisch einen Eingangsbereich zu, der sich von 90 bis 265VAC 50/60Hz erstreckt. Das heißt, die Geräte können in der ganzen Welt verwendet werden. Anders als andere Geräte, die über eine universellen Aufnahmeleistung verfügen, behält die Centaur-Reihe die volle Ausgangsleistung innerhalb des angegebenen Bereiches bei. Das Centaur-Modell arbeitet auch bei einer Eingangsleistung von 90-400VDC. Dies macht es zu einem Gleichstrom-Gleichstrom Lade-Umformer, der perfekt für ein elektronisches Diesel-System geeignet ist.
Unter anderem verfügt das Modell über eine vollautomatische Dreistufen-Ladekennlinie, die sicherstellt, dass die Batterien jedes Mal voll aufgeladen werden, sowie über drei getrennte Ladeausgänge für Ausstattungen mit mehreren Batterien, um für die meisten der typischen Installationen geeignet zu sein. Selbstverständlich müssen nicht alle drei Ausgänge genutzt werden, der volle Ladestrom kann auch auf 2 Ausgänge verteilt werden oder vollständig an einem Ausgang zur Verfügung stehen.
Die dreistufige IUoU-Ladekennlinie kann zum Laden von Blei-Akkumulatoren mit flüssigen (WET), gelartigen (GEL) als auch Flies gebundenen (AGM) Elektrolyten per Umschalter am Gerät angepasst werden. Die IUoU Ladung ermöglicht eine schnelle, vollständige und dabei schonende Ladung der Batterien. Diese Ladekennlinie erzielt ein optimales Ladeergebnis was die Lebensdauer der Batterien deutlich verlängern kann.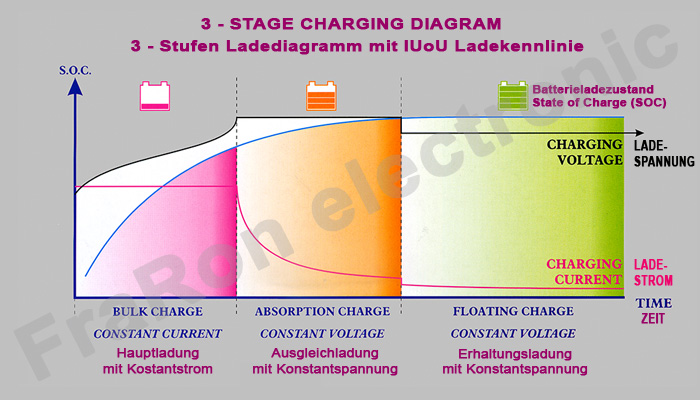 Das Ladegerät kann permanent mit den Batterien verbunden bleiben. Bei angeschlossenem und eingeschalteten Ladegerät stell die Erhaltungsladung sicher, dass die Batterien voll geladen bleiben, auch wenn diese einige Zeit nicht benutzt werden.
Qualität ohne Kompromis
Aluminiumgehäuse mit Epoxy-Pulverbeschichtung, Tropfschutz gegen Schwitzwasser und Befestigungsteile aus rostfreiem Stahl widerstehen den härtesten Anforderungen wie Hitze, Feuchtigkeit und salzhaltige Atmosphäre. Die Leiterplatten sind durch eine Acrylbeschichtung sicher gegen Korrosion geschützt. Temperaturfühler sorgen dafür, daß alle Leistungskomponenten innerhalb vorgegebener Grenzen arbeiten und gegebenenfalls bei Extrembedingungen der Ausgangsstrom automatische reduziert wird.
Laden von mehreren Batteriegruppen / Bänken:
Das Ladegerät verfügt über drei Ladeausgänge. Die zu ladenden Batteriebänke müssen vom gleichen Typ sein, also nur GEL-Batterien oder nur Blei-Säurebatterien bzw. AGM Batterien gleichzeitig. Die Batteriebänke können aus der Starterbatterie und einer Versorgungsbatterie bestehen oder aus z.B. zwei voneinander unabhängigen Versorgungsbatterien. Der zur Verfügung stehende Ladestrom wird auf die angeschlossenen Batterien nach deren Bedürfnissen verteilt. Es gilt für beide Ausgänge die gleiche Ladekennlinie.

Gleichzeitiges Laden der Batterien und Versorgen der angeschlossenen Verbraucher
Bei Netzanschluss werden alle an den Batterien angeschlossenen Verbraucher vom Ladegerät versorgt, gleichzeitig werden die Batterien mit dem noch zur Verfügung stehenden Ladestrom geladen.

Temperaturkompensierte Ladekennlinie
Der im Ladegerät vorhandene Temperatursensor kontrolliert die Ladespannungen in Abhängigkeit von der Umgebungstemperatur und stellt somit sicher, das eine vollständige Ladung der Batterie in allen Temperaturbereichen erfolgt, ohne diese zu überladen

Amperanzeige
Eine analoge Ampereanzeige zeigt den aktuellen Ladestrom an.

Bedieneinheit / Fernbedienung (optional erhältlich)
Das Ladegerät verfügt über eine Anschlussbuchse für die optional erhältliche Fernbedieneinheit BLG-2550. Die Bedieneinheit stellt über LED Anzeigen und über ein LCD Display alle wichtigen Informationen zur Verfügung. Die Bedieneinheit können Sie an einem beliebigen Ort einbauen und haben dadurch den Ladezustand ihrer Batterien jederzeit im Blick.

Temperatur- und Lastgeregelter Lüfter
Eine eingebaute Temperaturüberwachung schützt das Gerät vor Übertemperatur. Der geregelte Lüfter schaltet sich nur bei Bedarf ein.

Lieferumfang:
IUoU Ladegerät BLG40V24VC für 24V Batteriesysteme
Selbstverständlich erhalten Sie auch bei uns eine Bedienungsanleitung in Deutsch
Ladestrom: max. 40A
Batteriesystemspannung: 24V DC
Ladekennlinie: IUoU
Ladeausgänge: 3
empf. Batteriekapazität: 160-400Ah
Eingangsspannungsbereich: 90-265VAC oder 90-400VDC
Frequenz: 50/60Hz
Stromaufnahme bei 230V: max. 6A
Kühlung: Temperatur- und Lastgesteuerter Lüfter
Ladeschlussspannung ±0,1V in Stellung:

-----

Gel: 28,4V;

-----

Blei-Säure (WET): 29,0V;

-----

AGM: 28,7V

-----

Sonstige: 29,7V
Erhaltungsladespannung: GEL: 27,0V; Blei-Säure (WET): 27,0V; AGM: 26,6V; Sonstige: 27,4V
Absortionsphase / Zwischenladestufe: 4 Stunden
Temperatursensor: Intern, - 2mV / °C (- 1mV / °F) je Zelle
Schutz: Ausgangskurzschluß, Übertemperatur
Luftfeuchtigkeit: max. 95%
Temperaturbereich: -20°C bis +60°C
Batterieanschlüsse: Bolzen M8
Wechselspannungsanschluss: Schraubklemme bis 4mm²
Schutzklasse: IP21
Gehäusematerial aus Aluminium
Gewicht: 12,0kg (ohne Verpackung)
Abmessungen (L x B x T): 505 x 255 x 130mm
Do you still have questions about the order process or the article?

Simply contact a member of our customer service team.

You can reach us by telephone from Monday to Friday between 8:00 am and 6:00 pm.
Tel.: 06024 6341 560 or by fax under 06024 6341 569
Of course you can also contact us by e-mail: kontakt@fraron.de

Would you like to have a look at the goods beforehand or would you like a personal consultation on site?

No problem, you are welcome to view all products in our exhibition area.
Of course we are at your disposal for a personal consultation.
Monday to Friday between 8:00 am and 6:00 pm


What payment methods are available to you?

Cash payment / EC card payment when picking up at the store in Schöllkrippen
bank transfer / prepayment
Cash on delivery (you pay directly to the parcel deliverer upon receipt)
PayPal including buyer protection (for EU countries as well as Liechtenstein, Norway, Iceland)
Credit card (Visa / Master)

How long does it take to ship the goods?

The stock status is indicated online on the respective product page. Products in stock will be shipped immediately or after receipt of payment, depending on the payment method. The shipment of goods that can be shipped by parcel is carried out to all countries of delivery by DHL. The parcel delivery times in Germany are 1-2 working days. DHL also delivers on Saturdays in Germany. We ship shipping goods via the shipping company Emons, the transit times are 2-3 working days within Germany, abroad this can not be specified flat rate, please contact us.
<div class="pdf"> <a href="https://www.dropbox.com/s/7dp3uwajhjzuqd6/Centaur_24V_40A_60A.pdf?dl=0">Manual</a> </div>
high quality goods
huge warehouse
best service