Battery to Battery Charger 12V to 12V / 60A, Charge Booster BBW1260, IP68
waterproof IP68, perfect charge during your drive
---
Weight , shipped as package
* excl. ${ $store.getters.currentItemVariation.prices.default.vat.value }% VAT excl. Shipping
Legal information on the delivery date: 1 to 2 business days**
---
Battery to Battery Charger 60A, Serie Pro Batt IP68
12V to 12V with IUoUoU charge characteristic
for Boats, Trucks, Camper, Motor home, RV
Why do I need the Battery to Battery charger?
It is becoming increasingly more common knowledge now that the best way to charge a battery is using a 4 step battery charging curve. This cannot be achieved from a standard alternator. This system simply attaches between 2 battery banks: a starter/engine
battery and a secondary battery (domestic / house) battery bank. It essentially tricks the alternator into working at the maximum rating of the charger. This system is designed to use only the surplus power. It ensures at all times, that the power required to run the primary system of the vehicle or boat is not compromised. This surplus power is converted into a higher voltage and is used to charge a secondary battery bank using a digitally controlled programmable 4 step charging curve. This unit is also totally isolated, thus, the starter battery cannot discharge through this system, even in the event of the unit failing.
How does the unit work
The unit monitors teh engine start battery. battery. This unit will not start until the battery voltage exceeds about 13.3V. After that, it pulls the engine battery down to no less than 13.3V. This enables the engine battery to still receive a small charge and ensures the alternator works at its full potential. The unit takes the 13.3V into the control box and then boosts this up to a maximum of 15.5V (selectable chemistry profiles between 14.1-15.5V - consult battery manufacturer). A rule of thumb: Higher voltages result in faster charging and lower voltage result in slower charging. After a period of time, calculated by the software, when the auxiliary batteries are full, the system will float the batteries at approximately ~ 13.5V. It always ensures the engine battery comes first.
Other features included in this system are battery temperature sensors, remote battery sensors and a fully automatic sleep sensor, which switches the unit off when the engine has stopped. A remote panel is available as an optional extra.
Advantages of this unit
1) Installation: Simply connect between two battery banks (e.g. starter and house).
2) No direct connections to the standard engine alternator or to the outboard. Thus, on new installations there is no extra wiring for a split charging system.
3) This unit ensures the engine battery is kept full to start the vehicle while using as much surplus power as possible to boost into the auxiliary system.
4) Multiple units can be used, for example, if you have a 100A alternator and 3 battery banks (engine, domestic, and bow thruster); then, 2 of these can be used to run the bow thruster and the domestic system. Their internal programs will adjust their
charging patterns to accept the other unit. The unit shall ensure only the excess power is used and the primary system is not placed in jeopardy.
5) Ensures there is no voltage rise on the engine management system. Likewise, it ensure no alarms nor damage to the main system - be it an outboard, a car or a boat.
6) There are no vehicle warranty issues as you are not connected to the main engine management system.
7) This charger isolates both battery banks and prevents any feedback through the unit.
8. Compensates for large voltage drops in long cable runs with the use of a sense cable.
Can both boost charge or voltage reduce, if required. Sometimes alternators sustain a voltage that is too high for the batteries, this unit drops the voltage down.
Current limiting feature
The ability to current limit is a very important aspect of this product's design. Being able to limit the current to the rating of the product (60A/120A/240A) is advantageous as it protects the DC wiring system from large surges from bow thrusters or large
inverters. These surges can often exceed the rating of the wires, fuses, relays and diodes in the system causing permanent damage. If you can limit the current to 60A, for example, you can rate your relays, diodes, fuses to 80A. If your inverter / bow thruster
takes a surge of 300A only 60A can be drawn down the DC cable, instead of 300A.

5-Stage Battery Charching
The B2B charges batteries between 5-20 times faster than a stand alone alternator.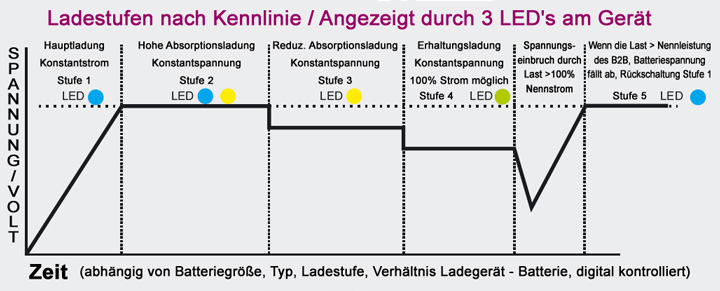 Multiple activation modes:
Automatic for most non vehicle applications. Manual for remote activation. Regenerative braking (requiring ignition feed). Finally, Automatic regenerative braking requiring no ignition feed.
8 preset battery chemistry options
including AGM, LiFePO4, Gel, flooded, LiFePO4 and sealed lead acid.
Waterproof ( built to ) IP68 models
These units have the benefit of being epoxy potted so that the charger is sealed off from water and dirt ingress. The cooling fan is not sealed and is rated at IP55, the fan is designed to be easily replaced in the event of major immersion.
Delivery contains:
BBW1260 Battery to Battery Charger / B2B Booster
Battery temperature sensor cable
Further informations you will find here: FAQ Seite
Technical Details:
Nominal Input Voltage: 12V
Input voltage range: 10-16V DC
Automatic activation (default setting), Ignition feed activation (with automatic on/off), Regenerative braking Ignition feed activation
Input current: max. 60A
Charging current: max. 55A, depending on input current and Boost Factor
Efficiency: 95-86&% depending on Boost Factor
recommended Battery capacity (domestic / house Battery): 100-600A
Charge characteristic: IUoUoU
selectable Battery type: GEL USA, AGM, Sealed, GEL EURO, AGM2, Blei-Säure, Calcium, Desulphation, LiFePO4
Battery temperature sensor cable
Connection bolts: M8
Ground connection: 150cm cable with internal Fuse
Housing material: Plastic
Waterproof: IP68 (main unit epoxy topped), IP55for cooling Fan
Dimensions (L x B x H): 150 x 110 x 120mm
Weight: 3kg
Do you still have questions about the order process or the article?

Simply contact a member of our customer service team.

You can reach us by telephone from Monday to Friday between 8:00 am and 6:00 pm.
Tel.: 06024 6341 560 or by fax under 06024 6341 569
Of course you can also contact us by e-mail: kontakt@fraron.de

Would you like to have a look at the goods beforehand or would you like a personal consultation on site?

No problem, you are welcome to view all products in our exhibition area.
Of course we are at your disposal for a personal consultation.
Monday to Friday between 8:00 am and 6:00 pm


What payment methods are available to you?

Cash payment / EC card payment when picking up at the store in Schöllkrippen
bank transfer / prepayment
Cash on delivery (you pay directly to the parcel deliverer upon receipt)
PayPal including buyer protection (for EU countries as well as Liechtenstein, Norway, Iceland)
Credit card (Visa / Master)

How long does it take to ship the goods?

The stock status is indicated online on the respective product page. Products in stock will be shipped immediately or after receipt of payment, depending on the payment method. The shipment of goods that can be shipped by parcel is carried out to all countries of delivery by DHL. The parcel delivery times in Germany are 1-2 working days. DHL also delivers on Saturdays in Germany. We ship shipping goods via the shipping company Emons, the transit times are 2-3 working days within Germany, abroad this can not be specified flat rate, please contact us.
<div class="pdf"> <a href="https://www.dropbox.com/s/3qxj6fg0y32j6ez/BBW6012_BBW60120_English.pdf?dl=0"target="_blank">PDF Manual</a> </div> <div class="pdf"> <a href=https://www.dropbox.com/s/q7pohiwcmdku08d/BBW1260%20BBW12120%20Instruction%20Activation%20German.pdf?dl=0"target="_blank">Connection_NEW</a> </div>
high quality goods
huge warehouse
best service